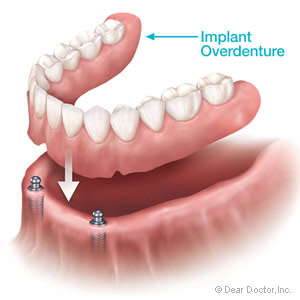 Although we have more replacement options for missing teeth than our forebears of a century ago, people who've lost all their teeth overwhelmingly choose dentures, a restoration that would have been quite familiar to past generations. And for good reason! Dentures have a long history of effectively restoring dental form and function.
Even so, dentures do have their weaknesses, and one in particular—they can't stop bone loss, a common occurrence after losing teeth. The forces we generate when we chew stimulate the bone in the jaw to produce new cells after older cells die off. The stimulation ends, however, where teeth go missing, which can cause replacement growth of bone to significantly lag behind and create a deficit in the bone.
What's worse, dentures may even accelerate further bone damage. The pressure they exert resting on the gums irritate the bony ridges beneath, resulting in more bone loss. The dentures' once tight fit may then become overly loose, making them unstable and uncomfortable to wear, and in need of repair or replacement.
There is a way, though, to address this weakness with dentures through dental implants. By strategically placing a few implants to support either a removable denture (overdenture) or a fixed denture, we may actually be able to slow or stop further bone loss.
As few as 3 implants might be needed to support an upper denture, which connects to them through special fittings, or perhaps only 2 for a lower denture. A fixed denture that's permanently affixed to the implants may require 4 to 6 for adequate support.
With the dentures' support shifted to the implants rather than the gums, it's obvious how these hybrid teeth replacements could be more secure. But what can they do to deter bone loss?
Implants are essentially a titanium metal post imbedded in the jawbone.  Bone naturally attracts to titanium, and will readily grow and adhere to its metal surface. Besides creating a durable bond, the relationship between implant and bone can generate new bone growth even in areas of previous loss.
An implant-supported denture can feel more secure in your mouth. More importantly, it might help you avoid further bone loss.
If you would like more information on implant-supported dentures or bridges, please contact us or schedule an appointment for a consultation. You can also learn more about this topic by reading the Dear Doctor magazine article "Overdentures & Fixed Dentures."